Lots of recipes coming at you from around the world this week! Remember, you can find a quick reference to past menu posts on our

Pinterest page

.
This is what I am expecting in my Standard size bin this week from
Prudent Produce
:
3-Cripps Pink Apples
3-Packham Pears
1-Tommy Atkins Mango
3-Nectarines
1-Strawberry (lb)
4-Bananas
1-Romaine Lettuce
1-Baby Spinach (5oz)
1-Potatoes (2lb Red or Yellow, small ones)
1-Yellow Onion
1-White Mushroom (8oz)
1-Rainbow Chard
Moroccan Nectarine and Plum Chicken Tagine
-
I don't eat chicken, but this looks like a yummy, sweet, sticky way to eat it if I did! I wonder if there is such thing as tofu tagine? My kids like sweet and sour chicken, I wonder if I could make this with tofu and get them to eat it. Pretty sure you don't have preserved lemons sitting around (if you do, I am impressed!), I would just squeeze in some fresh lemon juice and lemon zest in place of it.
Rolled Omelet with Feta, Spinach, Tomato
- I thought this was such a cute presentation of an omelet! I love how little touches like this just make a dish go from ordinary to fancy. This would be a good Father's Day brunch or breakfast for dinner meal.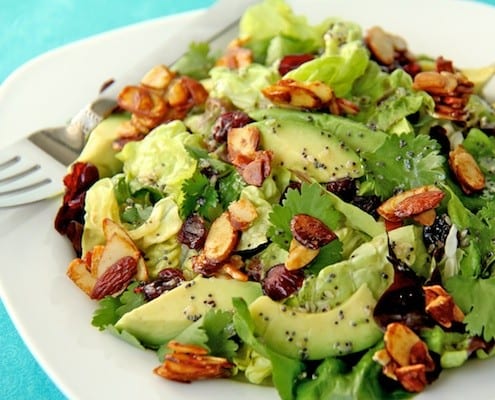 Cranberry & Avocado Salad
- this looks amazing. I'm not sure that I have ever been on the lookout for candied almonds, but I'm guessing you could find these at the store? The ingredient list looks a tad overwhelming - but remember you could make the candied almonds and the dressing ahead of time - this weekend even! You could also just use your favorite bottled balsamic - I have my favorite homemade balsamic always ready to go in the fridge. Not sure I would go to the trouble of buying white balsamic for this one.
Greens, Mushrooms, and White Bean Ragout
- Here's a tasty recipe from Whole Foods - you could use your spinach or chard for the greens here. The baby spinach doesn't take long to cook, so if you are using the spinach, just throw it in right at the end.
Swiss Chard Tacos
- I would never think to put swiss chard in tacos! This is a Rick Bayless recipe and that guy knows Mexican cooking. Use your favorite salsa if you don't want to make your own, although I do love the flavor of chipotle in adobo - you will find it in little cans in the mexican aisle near enchilada sauce, etc.
No Bake Strawberry Ice Box Cake
- this looks seriously easy, has few ingredients and looks amazing. Fresh whipped cream is so delicious!!
Potato and Cauliflower Curry
- I'm sometimes a little overwhelmed by all the ingredients/steps in Indian curries - this looks like a simple and accessible recipe if you are just getting started. Easy to add chicken or pork to. I like to buy paneer (frozen) at a little international food store at 75th & Douglas in Urbandale - I don't ever make Indian food without paneer! I also prefer to add coconut milk rather than yogurt - tastes that much more decadent, and adds a hint of sweetness.
Mango Stuffed French Toast
- Here is a fancy breakfast recipe, perfect for a special Father's Day breakfast in bed! Or, do breakfast for dinner, my kids enjoy that from time to time.
What's cooking in your kitchen this week? What are you doing with all these different fruits we are getting now that they are in season?
I'm stocking up my freezer for smoothies. With this warm weather, and my workouts starting to increase, I have been craving smoothies more than ever. I usually eat just a small portion of what I make for dinner, and then drink two big glasses of smoothie. I use random frozen fruit (last night was blueberries, half a mango, 1 1/2 peaches, banana) 1 cup almond milk, 1 cup rice milk (usually use all almon milk but ran out), and then a cup and a half of fresh strawberries - with Sun Warrior raw vegan chocolate protein powder. So good. I was nice and shared with my hubs and 7 yr old.