Keeping it brief this week......my real job is keeping me so busy right now! Remember you can always find prior recipe posts on my
Prudent Pinterest board

.
This is what I am expecting in my bin from

Prudent Produce

this week:
3-Packham Pears
2-Braeburn Apples
1-Seedless Grapes (black or green-lb)
3-Kiwi
2-Valencia Oranges
4-Bananas
1-Spinach Bunch
1- Watermelon Radishes
1-Green Bean (.75lb-local)
1-Walla Walla Sweet Onion
1-Baby Carrot
1-Broccoli
Broccoli Risotto
-
the pasta she is referring to is Orzo, and comes in a little box, brand that I commonly see is Barilla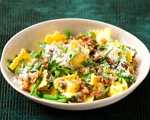 Ravioli with Green Beans and Brown Butter Sauce
- I think that if you have bacon eaters in your family that crumbled bacon on top would be good here.
Watermelon Radish Chips
- if you are not afraid of doing a little deep frying!
Egg Bake in Bread Bowl
-
recipe recap from a meal this week. This was a huge hit and you can use any variety of ingredients.
Zucchini Carrot Apple Muffins
- these look tasty and full of goodies!