This week was maybe the busiest week I've had at my job since I joined the company a little over two years ago. Combined with a weekly mileage goal of 40 miles (highest mileage to date is 36), and pulling off a youth cross country meet, and it's been insane.
All I can say is I am so grateful for

Prudent Produce

, I didn't make it to the store this week, so the delivery service was perfect for this hectic week! Remember you can also find these recipe posts on

Pinterest

.
Standard Menu
3-Cripps Pink Apples
3-Dapple Dandy Pluots
2-Avocados
3-Kiwi
4-Bananas
1-Baby Spinach (-prewashed-.5lb)
1-Green Beans (.75lb, local)
1-Broccolini
2-Tomatoes
1-Yellow Onion (local)
1-Russett Potatoes (2lb)
Scrambled Eggs with Ricotta and Broccolini
-
I have never thought of putting ricotto in eggs, but it sounds amazing! Serve with some nice crusty bread, maybe spread with sundried tomato pesto.
Tofu & Broccolini Pad See Ew
-
If I had known that pad see ew sauce was this easy, I would have been making this at home a long time ago! This is one of my favorite dishes to get at Thai restaurants.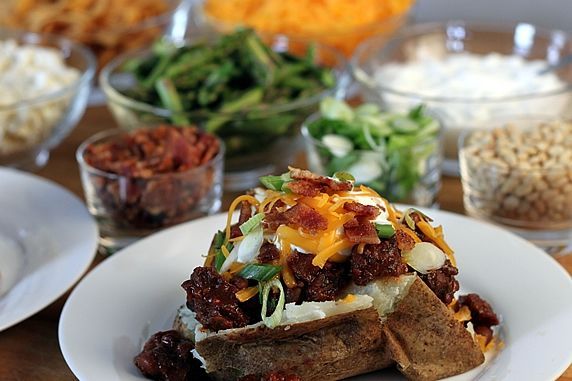 Baked Potato Bar
-
I have to admit, I have perfected the baked potato. Crispy skin, creamy, melty insides. And it's super simple - Sunday evenings are xc practice, so usually as easy meal of fish, baked potatoes and veggies. I prepare the veggies in advance then set the ovens to turn on while we are at practice. I wash the potatoes, pierce with a fork, and put in the oven. I set the oven to cook at 350 for 45 minutes, and the potatoes are in there while the oven is pre-heating. This link provides a ton of ideas for toppings for a baked potato bar - so fun to let kids take control of their own meal!
Spinach & Feta Crescents - simple and delicious. Finely chop and saute an onion in a little olive oil with a couple cloves of mincer garlic. Rough chop the spinach and add to the pan until wilted. Stir in a 6 oz container of feta. Unroll your tube of crescent rolls, take each crescent and roll it out a little. Put some of the spinach / feta mixture in the middle, and fold in the edges to form a little calzone. Repeat with all the crescent rolls. Use remaining mixture over pasta, or in a quesadilla.
Green Bean Salad
-
I have never tried walnut oil, so I suppose it's the flavor and body that makes it special for dressings. But I would use a good quality olive oil, or any other good dressing oils you have on hand for the dressing.
Bananas Foster Banana Bread
-
you had me at streusel.
How do you handle busy weeks? What's the first thing that goes (cooking, working out, cleaning) when there aren't enough hours in the day?
I have to make sure to squeeze in my work outs, it's my only sanity. There were too many evening treadmill at home runs this week - for some reason I hate that treadmill, but was grateful for it this week. Cleaning is the thing that goes. So behind on laundry, and my living room looks like the toy box exploded all over it.